Discover more from Eat New Zealand Kaitaki
A collection of Aotearoa food stories told by the Eat New Zealand Kaitaki; a collective of next generation food leaders. This cohort is supported by Our Land and Water National Science Challenge.
Eat NZ Kaitaki 'Talking Plates'
Join us next Thursday 11th May at Welly on a Plate, as our next-generation food leaders join forces with Eat NZ founder Chef Giulio Sturla to dish up discussion around what comes next!
Eat NZ Kaitaki 'Talking Plates'  Thursday 11th May 
6.30pm 
LTD
$180 for food / $230 for food + drinks match.
This five-course feast will be presented by five young chefs from within our Eat NZ Kaitaki - a collective of next-generation food leaders. 
The meal will be led by Eat New Zealand founder chef Giulio Sturla of Mapu in Lyttelton. They'll be celebrating producers from within our Kaitaki collective including: Tora Collective, Oceanspeared, Mangaroa Farms & Cranky Goat Cheese.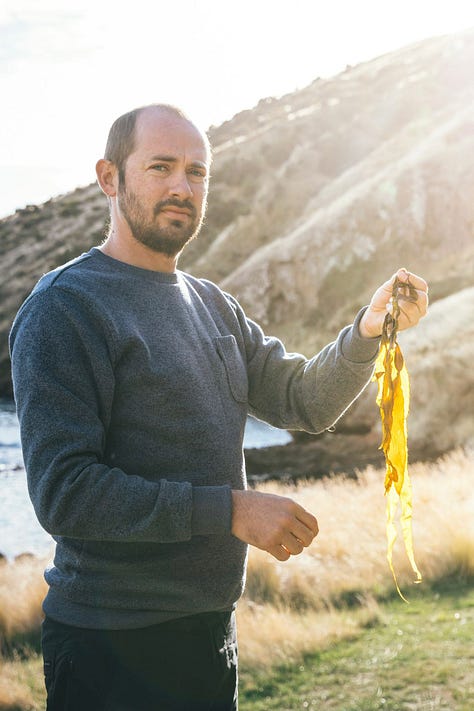 Using plates of food to tell our stories has always been baked into the DNA of Eat New Zealand.  The following hashtags capture in simple ways values that are complex and hugely important to us as a movement. 
From #EatTheWholeFish to #NZNativeIngredients, the conversation has evolved to include #LotsOfLittle and #RepurposeTheSurplus.
Ideas such as #KnowYourFarmer  #KnowYourFisher  #EatNZGrains  #GrowFoodCommunities and our perennial #WildFoodLove are hard-wired into who we are.
You can experience these plates, along with their own vision of the future, in Wellington on Thursday 11th May as part of Wellington on a Plate.

It will be a meal you'll be discussing around many future tables, make sure you're at this one!
The Wine List: Pouring what comes next…
As part of the event we will be showcasing these three incredible winemakers from within our Eat NZ Kaitaki collective.

Siren Wine by Ashleigh Barrowman is made by a woman who has worked within the natural wine industry for the last 10 years. Ashleigh has an impressive resume; having trained under some of the most well regarded vignerons around the world in Burgundy, Jura, Sicily, Victoria and home here in Marlborough. Having worked across everything from grape growing and pruning, through to production and international distribution to importation and retail. Siren Wine is her passion project, and the accumulation of many years learning from her mentors. Ashleigh produces certified organic, single vineyard wines from Marlborough, New Zealand. All are unfined, unfiltered, wild fermented and contain low to no sulphites, reflective of time and place.

Huntress Wines is a small brand by Jannine Rickards (Ngā puhi & Ngā te Rangi) who is based in the Wairarapa. She is a keen hunter, forager and foodie, who is comitted to full utilisation of the animals she hunts. Jannine makes thoughtful, expressive and complex wines from organic grapes from the Wairarapa and Hawkes Bay regions. They are textural wines that pair really well with kai, and are a direct reflection of the land (whenua).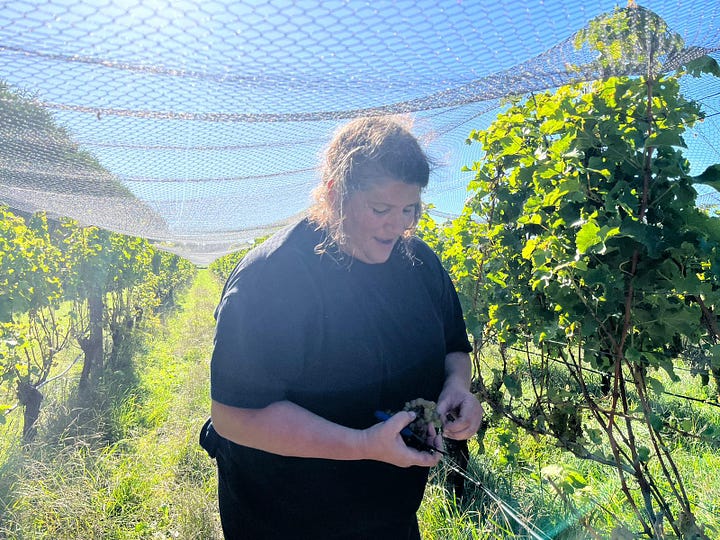 Vita Wines are made by Will Lyons-Bowman (Ngāpuhi) in the Waipara Valley in North Canterbury, New Zealand. Will has spent his whole wine-life in organic and biodynamic vineyards - Black Estate, Millton and Greystone (NZ) and Olek Bondonio (Italy) - which have heavily influenced his growing and making philosophy. He produces wine that is brimming with energy. For him living vineyards make living wines! Hand harvested and organically farmed the fruit is treated simply, allowing it to be a lively, pure and moreish expression of the land where it grew. Will lives in Ōtautahi with his wife Jane and two naughty sheep dogs, Mary and Dot.
Join us in Wellington for a taste of what comes next here!
If you aren't able to join us in Wellington, make sure you are following along on our socials to see some of the action behind the scenes next week.
---